Institute has solid modern material resources. It has had its own building that occupies more than 4000 square kilometers since 2005. The modern building has all essential things for student's study: class rooms, computer rooms, laboratories, library, print room, conference hall, assembly hall, gyms, gymnasium, first-aid post and lunchroom.
The institute trains specialists for key region enterprises - Novovoronezh nuclear power plant, JSC «Voronezhpower», concern «Constellation», Central-Chernozem Sberbank Bank of the Russian Federation. The agreement was signed with «Arcadia» University about joint Russian-American training of specialists in business, management, computer technologies and psychology.
There are friendly teaching staff, creative atmosphere that create high activity both students and teachers. Besides traditional training technologies modern computer training systems are used during the educational process (electron integrated educational courses, training apparatuses, coaches), multimedia means. Speed internet is used during the laboratory classes. Application work of Distance learning is being realized now. Professorial and teaching staff is aimed to the active training methods directed to the increasing a level of education motivation and forming skills of solving problems independently.
New traditions have been appeared that are inherited from year to year from graduates to first-year students. Students of IICT keep high active position and tend to realize their creative potential inside the institute units: creative groups, science society, sport groups, students club.
Much attention is paid to the physical training. Volleyball, football, basketball sections have been organized, there are competitions of table tennis, strength and athletics triathlon, checkers and chests.
But institute of higher education is not only study. Students of full-time study take part in the work of students' club and can organize their leisure and activity out of study.
New study building equipped with modern laboratories and potential of highly qualified teaching staff open new possibilities for the institute. The IICT takes part in the realization of inter-branch innovation programs and projects for solving scientific and technical problems, Federal programs of information support, region programs of application computer technologies, development of telecommunication systems in institutes of higher education, and in realization of enterprising fundamental researches having risks but aimed on the creating  of advanced science future.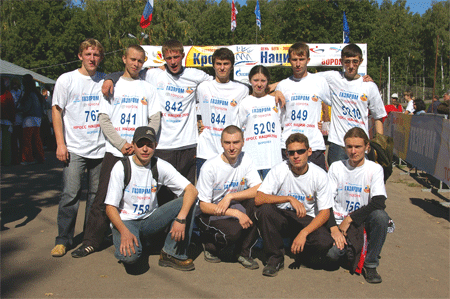 The institute makes researches in the area of creating science intensive modern equipment and technologies for industry enterprises and scientific research organizations. Engineering Technical center (ETC) makes development of special technological equipment. The creation of research test models is made in the frames of state contracts performance and direct contracts with radio industry enterprises and educational institutes according the strict conformity with engineering customers' requirements.
ETC is the center of development and application of new educational technologies: group project study, credit system, rating educational system, distance education realized by cooperation with departments, institute subdivisions, enterprises of scientific area. Young scientists, post-graduates and students are attracted to the work.
IICT tends to correspond with high requirements of domestic education and leads to the increasing of training quality of a competitive specialist.